About Angel View
Professional Window Cleaning Services
With more than 10 years of experience, coupled with stringent safety measures and state-of-the-art equipment, Angel View's Window Cleaning results are crystal clear. Our window cleaning professionals use only quality cleaning products to create the finest finish possible, and our glass restoration process removes minerals and stains, renewing the original, natural beauty of your glass.
For more information about our safety standards and cutting-edge cleaning equipment, visit our Safety page.
Main Services
Angel View serves the Salt Lake City, Utah market and surrounding areas. Their staff are trained and licensed in commercial and residential window cleaning and power washing and have the knowledge to properly clean your windows and other property using the industry's highest safety standards and best practices available.
Commercial Glass Cleaning
High-rise hotels, office buildings and apartment complexes
Glass Restoration
Removal of stains, etching, mineral build-up and pitting
Residential Glass Cleaning
Screen cleaning, glass stain removal, power washing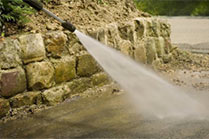 Power Washing
Buildings, stucco, stone, brick, and more...
Take a minute and check out what customers are saying about Angel View on our Customer Testimonials page. Read the testimonials found on this page and you'll soon discover why Angel View has quickly become a preferred window cleaning company among businesses in Utah and surrounding states. What are you waiting for? Call for more information, or schedule a window cleaning today.
"I cannot say enough good things about Angel View Window Cleaning – these people are top notch! Professional, courteous, responsive, responsible and did a fantastic job! Our windows are so clean – they look brand new! When I reached out to Angel View, I had a response within hours. We have difficult windows to clean as some are quite high and they got to the tall windows and the basement windows – no problem. I'm so pleased!! I will definitely be using them again and am already recommending them to my contacts. Five stars!"